Event Date:
Tuesday, February 27, 2018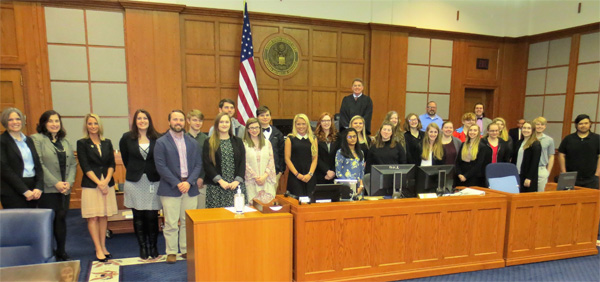 A group of 22 Students and 4 chaperones spent the day at the Howard Baker, Jr. Federal Courthouse on Tuesday, February 27, 2018.  Mr. Dustin Helton, instructor for this advanced placement group of students, requested a visit to Federal Court to tie into the curriculum they were studying about the judiciary.
The students were provided an overview of the federal court system by Historian, Don Ferguson.  They visited the U.S. Marshal's Office for a demonstration on security and the role of the Deputy Marshals.  They observed a court proceeding before Magistrate Judge Guyton which was followed by a Q&A session with the participants and the judge.  The Knoxville judges had lunch with the students in the jury assembly room, and Don Ferguson gave them a tour of the History Suite and the District Court space before the students headed back to school.